Bio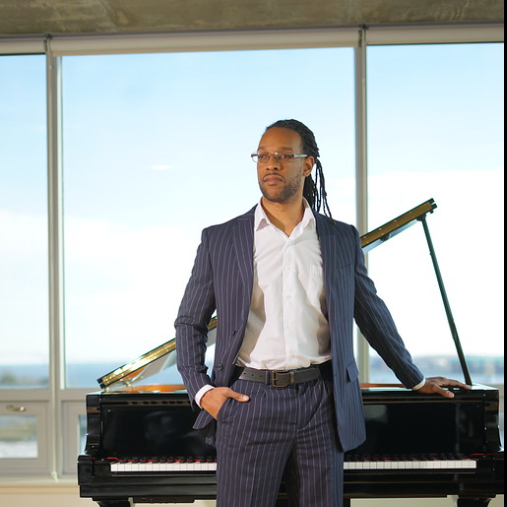 Aaron Hill
Rebirth of The Renaissance Man
Aaron Hill is a bit of a renaissance man and polymath with a wide range of talents and areas of knowledge and expertise in the fields of music, audio engineering, philosophy, theology, psychology, psychotherapy, mindfulness, meditation, business and entrepreneurship to name a few. Hill's educational background includes certifications in Music Production and Engineering from Berklee School of Music and Sheffield Institute for the Recording Arts. Hailing from Baltimore, Maryland, Aaron is a piano artist, composer, producer, audio engineer, talk show host, educator, entrepreneur, creative brand and marketing strategist and thought leader using all his knowledge and expertise to freely help as many as he can in whatever way he can. Hill's life motto comes from the Mahailia Jackson lyric "If I can help somebody, then my living isn't in vain".   
With the benefit of being raised by a nurturing mother and school teacher, (Cheryl Lawson) who made education, exposure and self expression a top priority; Aaron would have the foundation needed for the potential of a bright future. At age 14 after being continually reinforced by his mother that he was an exceptional poet, Aaron would take an interest in becoming a hip hop artist and lyricist, then shortly after forming a rap trio with 2 other best friends known as "Verbal Assassins". Over the next 2 years the group, later renamed "ill Poets" then "Critically Acclaimed" would release an EP and several singles that received great reviews and notoriety throughout the local Baltimore community. At 16 Aaron decided to try his hand at production after the producer of the group took a sabbatical which would lead him to discover his talent for composing original music By 17 after receiving raved reviews from more experienced producers Aaron would decide to take his music to the next level by teaching himself to read music and pursuing the study of piano. At a point of almost giving up because of being discouraged about not having a teacher, Aaron would meet his mentor Dr. Maurice Johnson who for the next 2 years before his own sudden transition would teach him gospel piano, music theory and the basics of business etiquette and working with people. At 21 Hill landed a full time job as a church musician, left his 40 hr/week auto parts job to fulfill his new 10 hr/week job while consistently putting 30 hours a week into music study over the next 2 years.  
As a piano artist bred in hip hop, gospel, and jazz, Aaron's influences include a plethora of iconic artists including pianists Keith Jarrett, Robert Glasper, Russel Ferrante and Chick Corea as well as hip hop group The Roots which at 17 piqued his desire to take his studio music to the stage with live instrumentation. Aaron currently tours the U.S. with his concept "Street Serenades", an over 125 and counting pop up free piano concert series for the community in response to covid and the shut down of music venues; bringing the joy and gift of music to various street corners, parks, lakes, sidewalks and porches performing solo or appearing with his 2 groups, "Aaron Hill Trio" (a group reminiscent of legendary pianist Keith Jarrett's Standards Trio), and "Fruition Experience"  (a Neo soul, hip hop and jazz collective lead by sultry vocalist Ama Chandra) as well a host of other musical guests.
Daily, as a Certified Mindfulness & Meditation Teacher and Stretching & Flexibility Coach Aaron helps people to relieve stress, anxiety, grief, depression and improve their quality of life through his 5M Soulful Self Care Formula which consists of Music, Movement, Mindfulness, Meditation & Mantras. This is in the form of live 5M workshops & online content.
In 2007 after seeing a void in the karaoke and backing track industry Aaron spread his entrepreneurial wings and a global audience ensued with the birthing of Fruition Music Inc. a production company specializing in soulful performance tracks for singers, groups and artists who aren't fortunate to have musical accompaniment. Today Aaron's tracks and original music total over 100 albums and clocks in at over 30 million streams and over 1 million downloads worldwide and he's performed on world rebound stages such as the Kennedy Center, Blues Alley and The Rams Head to name a few. 
Other milestone accomplishments include Hill's music being featured in the Oprah Winfrey Network show "Welcome To Sweetie Pies'' in 2011 and Oprah herself recommending Aaron's music to others. 
In 2023 Aaron, Sherri Goodall & Tab Wolod put their expertise together and founded the GHW Creative Brand and Marketing Strategy team",consulting small to medium size businesses to help them revamp, re envision, reinvigorate and revive their brand and marketing strategy.   
Hill's overarching goal as quoted is to "create legacy by helping as many people as I can, with as much as I can, for as long as I can" and his 4 favorite of his over 200 original quotes and sayings are; "You'd rather fail than to regret never trying", "Be a happy seed planter, not a stressed out gardner", "You might not be one person's cup of tea, but you're someone else's full course meal" and lastly "You don't need anyone in your life who doesn't fully accept you for who your are."  --Aaron Hill